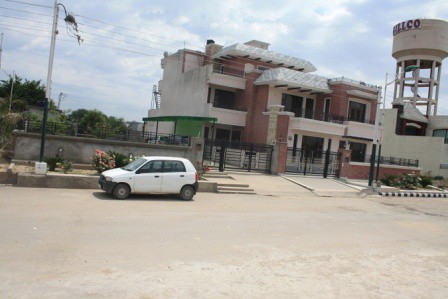 Sharma Travels offer Tempo Traveller in Gillco Valley Mohali. We offer 8 to 17 seater Tempo Travellers for Shimla Manali Dharamshala Dalhousie etc.
Kharar is a town and a municipal council in Sahibzada Ajit Singh Nagar district in the state of Punjab. It is near Chandigarh and is often referred to as "Greater Mohali" due to its close proximity to Mohali.
Book Tempo Traveller in Chandigarh
Sharma Travels no 1 company for Luxury Tempo Traveller provider company in Chandigarh. Our Company working with above 100 Travel agencies of India. We have capacity to provide above 50 Tempo Travellers in Chandigarh. We have fully luxury tempo travellers with dual AC. Our all tempo traveller are fully modified with all luxury services.If you are looking for tempo traveller taxi chandigarh then we are the best match.
Tempo Traveller Services:
Tempo Traveller in Gillco Valley Mohali
Force Tempo Traveller on hire Gillco Valley Mohali
Tempo Traveller on rent Gillco Valley Mohali
12 seater Tempo Traveller in Gillco Valley Mohali to Shimla
Tempo Traveller in Gillco Valley Mohali to Manali
9 seater Tempo Traveller in Gillco Valley Mohali to Dharamshala
Tempo Traveller in Gillco Valley Mohali to Dalhousie
13 seater Tempo Traveller Gillco Valley Mohali to Amritsar
Tempo Traveller Gillco Valley Mohalito Delhi
10 seater Tempo Traveller Gillco Valley Mohali to Leh Ladakh
Tempo Traveller Gillco Valley Mohali to Agra Jaipur
17 seater Tempo Traveller Gillco Valley Mohali to Vrindavan Barsana Mathura
Tempo Traveller Gillco Valley Mohali to Udaipur Jodhpur Jaisalmer Bikaner Pushkar Sawai Madhopur Chittorgarh Mount Abu Ajmer
Tempo Traveller fleets from Chandigarh
Chandigarh to Manali Tempo Traveller fare:
13 seater Tempo Traveller (5 days/ 4 nights) : 18k to 22k
Chandigarh to Shimla Tempo Traveller price:
13 seater Tempo Traveller (4 days/ 3 nights) : 14k to 18k
Chandigarh to Shimla Manali Tempo Traveller rate:
13 seater Tempo Traveller (7 days/ 6 nights) : 25k to 30k
Chandigarh to Shimla Manali Dharamshala Dalhousie Amritsar Tempo Traveller amount:
13 seater Tempo Traveller (10 days/ 9 nights) : 35k to 42k
Chandigarh to Katra Vaishnu Devi Tempo Traveller quote:
13 seater Tempo Traveller (3 days/ 2 nights) : 16k to 22k
Chandigarh to Amritsar Tempo Traveller rate:
13 seater Tempo Traveller (Same Day) : 8k to 10k
Chandigarh to Delhi Tempo Traveller fleet:
13 seater Tempo Traveller (drop) : 8k to 11k
Chandigarh to Leh Ladakh Tempo Traveller price:
13 seater Tempo Traveller (drop by Manali) : 35k to 45k
Chandigarh to Leh Ladakh by Manali Tempo Traveller amount:
13 seater Tempo Traveller (10 days/ 9 nights) : 47k to 57k
Chandigarh to Kalpa Kaza Lahaul Spiti Tempo Traveller fare:
13 seater Tempo Traveller (10 days/ 9 nights) : 42k to 53k
Chandigarh to Jaipur Agra Tempo Traveller fleet:
13 seater Tempo Traveller (per km basis rate) : Rs 15 to Rs 18 per km
Chandigarh to Dharamshala Dalhousie Tempo Traveller price:
13 seater Tempo Traveller (6 days/ 5 nights) : 22k to 27k